HALE HEARTY CARDIOLOGY
Medithics - Cardiology Department
Complications of the heart or cardiovascular system is treated, diagnosed and prevented by cardiologists. Amongst the heart hospitals in Kolkata & top 10 cardiologists in Kolkata, Medithics is known for renowned Interventional Cardiologist in Kolkata as core founding member and a consultant doctor. Interventional cardiology is a branch of cardiology that deals specifically with the catheter based treatment of heart diseases, especially angioplasty reducing scars and pain, and long post-operative recovery. Heart specialist doctor in Kolkata at Medithics has noteworthy experience in cardiology treatment and heart surgery, conducting angiography, angioplasty, bypass surgery, setting pacemakers, etc. Pressure, pain in the heart region, aching sensation in your chest or arms that may spread to your neck, jaw or back, nausea, indigestion, heartburn or abdominal pain, shortness of breath, cold sweat, fatigue, lightheadedness or sudden dizziness could be symptoms of heart attack, which can occur suddenly or appear and intensify over time. In case of intense symptoms consult cardiologist near you. To consult one of the top cardiologist in Kolkata contact Medithics. Medithics is adept at preventive cardiology and rehabilitation and has successfully treated number of patients with heart defects or ailments back to normal life.
Meet Our Doctors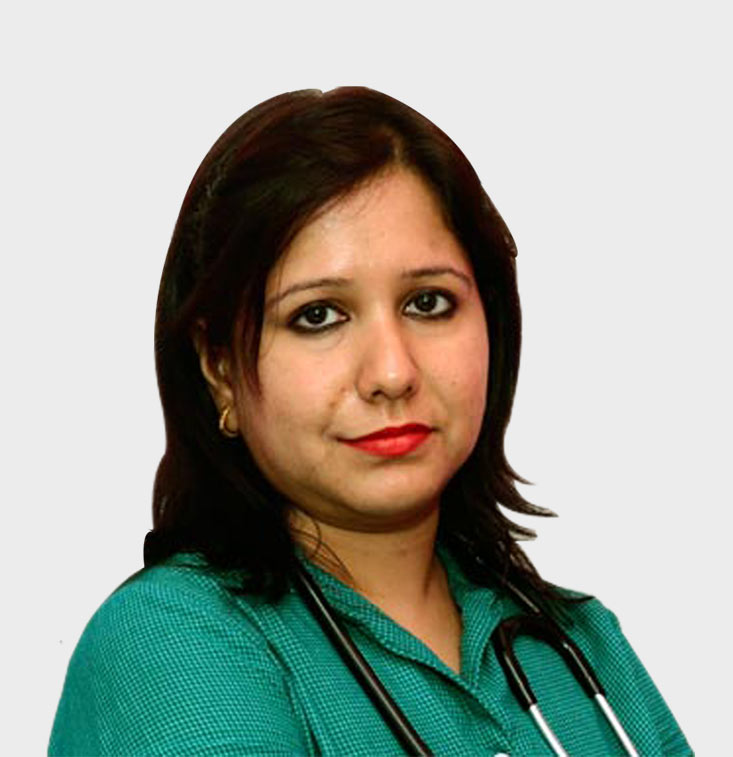 DR. PARIJAT DEB CHOUDHURY
Qualifications:
MBBS (JIPMER)
MD (MEDICINE), DNB-CARDIOLOGY (NARAYANA HEALTH), CONSULTANT INTERVENTIONAL CARDIOLOGIST.
70236
(WBMC)
Our Key Treatments
ECG, ECHO (Colour Doppler), StrESS ECHO
During a stress echocardiography, a cardiotonic drug is injected while Doctors check any change in cardiac contructility.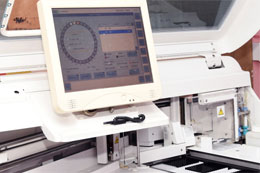 TMT
A treadmill test (TMT) or exercise stress test helps to determine how far your heart can go before an abnormal rhythm or blood flow to the heart muscle drops.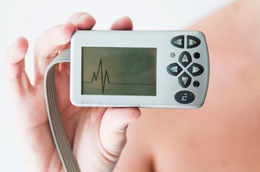 HOLTER
A Holter monitor is a battery-operated portable device that measures and records your heart's activity (ECG) continuously for 24 to 48 hours or longer.
ABPM(Ambulatory Blood Pressure Monitoring)
When your blood pressure is being measured as you move around, living your normal daily life. It uses a small digital blood pressure machinethatis attached to a belt around your body.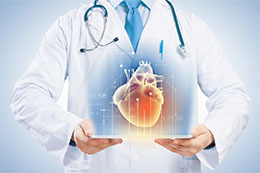 PREVENTIVE CARDIOLOGY
The Preventive Cardiology & Rehabilitation Section offers services to patients with cardiovascular disease and those who have a high risk of eveloping it. Individualized programs are designed to reduce risk factors and prevent disease from getting worse.
CORONARY ANGIOGRAPHY
Coronary angiography is a procedure that uses a special dye and x-rays to see how blood flows through the arteries in your heart.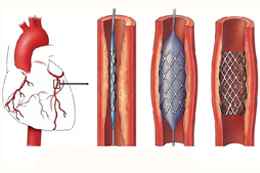 CORONARY ANGIOPLASTY
Coronary angioplasty is a procedure used to open clogged heart arteries. Angioplasty uses a tiny balloon catheter that is inserted in a blocked blood vessel to help widen it and improve blood flow to the heart.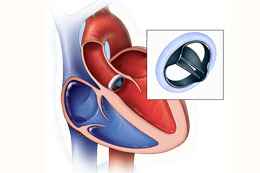 VALVE REPLACEMENT
Valve replacement surgery is the replacement of one or more of the heart valves with either an artificial heart valve or a bioprosthesis.
PACEMAKER
A pacemaker is a device that sends small electrical impulses to the heart muscle to maintain a suitable heart rate or to stimulate the lower chambers of the heart (ventricles).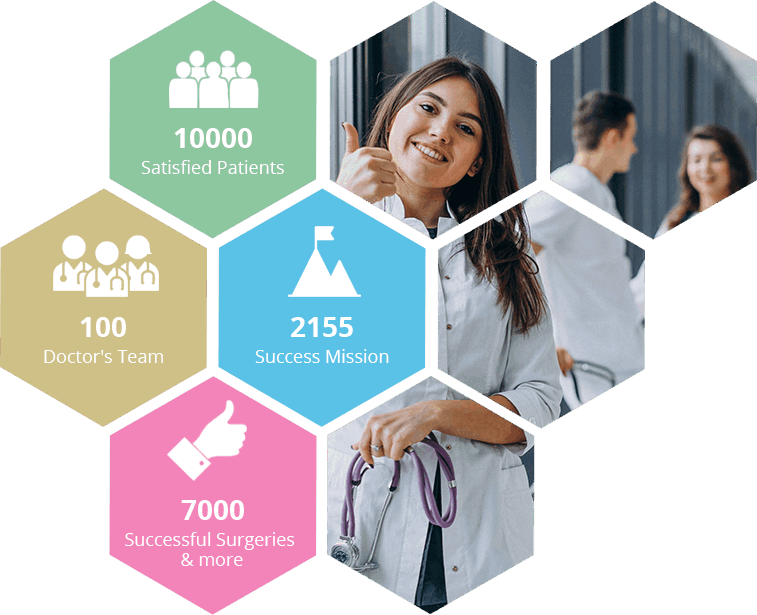 Our Achievement
Medithics has been serving the mankind for a long time. We are one of the most efficient health clinics in providing quality healthcare solutions to more than 10,000 patients. We have a core team of highly qualified and experienced doctors of all medical fields and skilled staff members who are always there for our patients. We have successfully performed more than 7,000 surgeries. Our mission is to help the people more, and our name is our identity.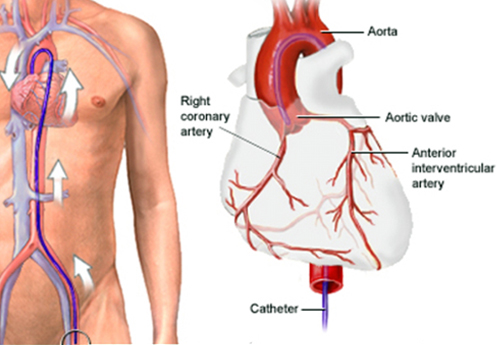 Coronary Angiography
Angiography is an x-ray technique in which dye is injected into the chambers of your heart or the arteries that lead to your heart (the coronary arteries). The cardiologist can then measure the blood flow and blood pressure in the heart chambers and see if the coronary arteries are blocked. The heart specialists perform a cardiac catheterization procedure in which a long, thin tube (called a catheter) is put into an artery in the leg and threaded into the heart. Once the catheter is in place in the heart, a dye is injected through the catheter and into the heart. The dye helps doctors see how the heart chambers and the coronary arteries are working. The movement of the dye through your heart and coronary arteries is recorded as an angiogram and viewed on a television monitor.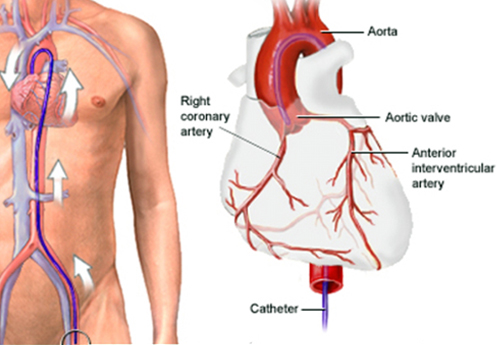 Coronary Angioplasty
It is found that the coronary arteries in some people become hardened and this creates difficulty in the free-flowing of blood and oxygen through them. This condition is known as coronary artery disease and cardiologists perform angioplasty to treat this. There is the use of catheterization in this procedure to open up the artery making the flow easy. You may need to stay the night at the hospital after the surgery, which can take up to 1 to 3 hours. The best angioplasty doctor in Kolkata performs this procedure by inserting a catheter into a blocked artery. Balloon method and the stent method are the two types of angioplasty normally done. The doctor aims to open the blocked artery in both the procedures so that the flow of blood and oxygen becomes consistent and easy.
Pacemaker
In a healthy heart, there is normally a pacemaker-like mechanism. This helps in maintaining the heart's rhythm and space. Your cardiologist may suggest installing a pacemaker in your chest if there is any abnormality in the heart function. In order to keep the heart's rhythm normal, a pacemaker sends electrical signals to the heart. For the treatment of fainting spells (syncope), congestive heart failure, and hypertrophic cardiomyopathy also, a cardiologist uses pacemaker in Kolkata apart from using it as a corrective procedure for arrhythmia. The leads and the pulse generator are the two parts of a pacemaker. The wires implanted into the heart muscle through veins comprise the first part and the latter part consists of the battery and a small computer pushed inside the chest. The leads perform a dual function of monitoring the heart's activity and helping carry impulses from the pulse generator. The heart gets the power to contract from these impulses. The three types of pacemakers are single-chamber pacemakers, dual-chamber pacemakers and biventricular pacemakers.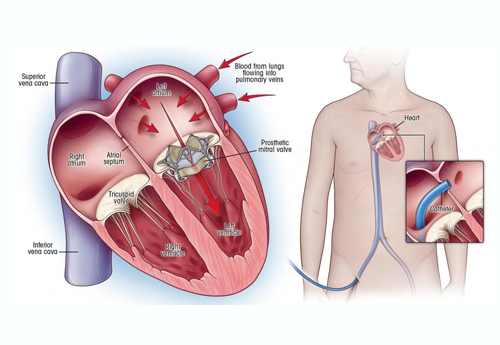 Valve Replacement
A type of surgical procedure for the treatment of heart valve surgery is known as heart valve surgery. A heart specialist usually performs this surgery on the mitral valve but may also carry out this procedure on aortic, tricuspid and pulmonic valves. If heart valve repair surgery cannot cure the patient completely, the doctor goes for heart valve surgery. The purpose of heart valve surgeries can be the replacement of a valve or its repair if there is no need for a replacement and your heart can be repaired. During every beat of our heart, the flaps in the heart valves open and close. The best cardiologist in Kolkata performs a heart valve surgery or a heart valve repair surgery when the valves aren't able to close properly anymore. Whether you need to undergo a repair surgery or minimally invasive heart surgery or open-heart valve surgery, depends on the severity of the case. A number of factors ranging from your health to your age play a major role in the doctor's decision about your treatment option.